Blazing 5: Colin Cowherd Gives His Five Best NFL Bets For Week 5 (10/4)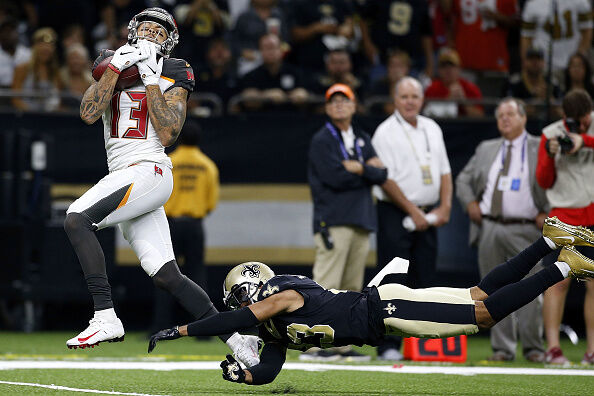 Colin Cowherd's NFL Blazin' 5 Picks For Week 5 (Video at Bottom of Page)
Colin's 2019 Blazin' 5 Record Through 4 Weeks: 14-5-1 (Last week 3-2)
Bears at Raiders (SPREAD: CHI -4.5)
"I'm taking Chicago, the favorite in London. The better organization will travel better than a chaotic one if you have to go to Europe. I don't believe the Bears going to a backup quarterback is a true 'back up'. Chase Daniel is as good as Mitch Trubisky and I don't think it's worth more than half a point. The Bears defense is second or third in every meaningful category. The Raiders have 18 sacks since the beginning of last year and 17 of those were from Khalil Mack. Yes, the Bears can be limited at quarterback, but they're tied for the NFL's best turnover differential and don't make a lot of mistakes. I'll take the Bears to win and cover, 29-23."
Colin's Pick: Bears (-4.5)
Cardinals at Bengals (SPREAD: CIN -3.0)
"I'm taking Arizona to win their first game with Kyler Murray. Cincinnati's two dynamic perimeter players, A.J. Green and John Ross are out, they don't have a dynamic quarterback, so where are they getting dynamic playmakers?? The Bengals can't do anything; they can't score, they can't rush, and they're bad in the red zone. Arizona has issues but they've got a playmaker in Kyler, a creative head coach, and Larry Fitzgerald. In a low scoring game with two bad teams, at least I have guys on Arizona's side that can make plays. Cincinnati is 2-13 in their last 15 games and is awful with no hope. I'm taking the Cardinals with the upset, 26-24."
Colin's Pick: Cardinals (+3)
Bucs at Saints (SPREAD: NO -3)
"Tampa Bay is so amazing! NO, they're not, they're a losing franchise that had a good Sunday vs. the Rams. The Saints have been a winning franchise for 15 years. I'm going to take the Saints at home. The bottom line in betting is you take the team who you think is going to win. I think New Orleans is a better football team. The line between the Bucs and Saints is 3. Are you telling me the only difference is the Superdome? You think these teams are even?? Because that's what a 3-point spread says. NONSENSE. They're 15-2 at home the last three years and outside a bad officiating call they could be 16-1. I think New Orleans wins 30-23."
Colin's Pick: Saints (-3)
Vikings at Giants (SPREAD: MIN -4.5)
"I'm taking the favorite, Minnesota. I wrote down the 10 best players in this game and the Vikings had nine of them. This is a personnel mismatch. Minnesota was embarrassed last week, and good coaches with good rosters who were embarrassed always bounce back. Kirk Cousins the last two years following a loss is actually pretty good. He's not good in primetime, but the week after he loses in primetime he has 12 touchdowns and 2 interceptions. The Giants haven't won three straight games in three years. I don't think Cousins is great but he's as good as a rookie quarterback. It's not a primetime game and Kirk can hide a little. I'm saying 30-23, Minnesota."
Colin's Pick: Vikings (-4.5)
Packers at Cowboys (SPREAD: DAL -3.5)
"I'm taking the points here; this one feels really obvious. I get a significantly better quarterback and I get over a field goal. The Packers defense ranks top 3 in yards allowed, they're 4th in takeaways, and 7th in scoring. What is the Cowboys offense?? Aaron Rodgers doesn't turn the ball over so they will never give Dak and Zeke a short field. The whole world watched Green Bay get pushed around last week against Philadelphia and I think it's an urgent game for the Packers. I think Green Bay wins outright, 27-26.
Colin's Pick: Packers (+3.5)

The Herd with Colin Cowherd
Want to know more about The Herd with Colin Cowherd? Get their official bio, social pages & articles on FOX Sports Radio!
Read more