Colin Cowherd Lists His Five Breakout Players for the Upcoming NFL Season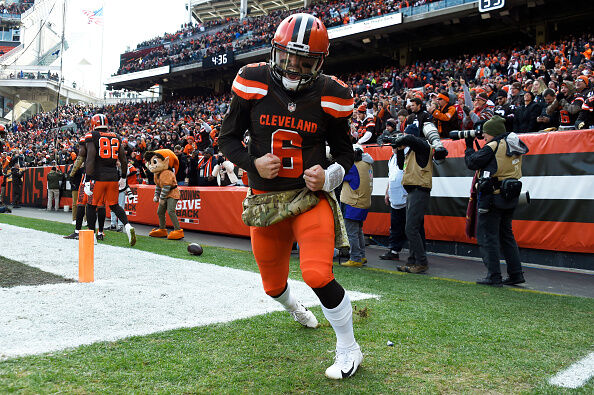 Five NFL Players That Will Explode in 2019 According to Colin Cowherd:
5. Baker Mayfield:

"I think Baker is going to have elevated stats with Odell Beckham Jr, Jarvis Landry, David Njoku, Kareem Hunt, and Nick Chubb. I do worry about their offensive line but I think Baker will pop."
4. Dalvin Cook:

"He was having a great season two years ago when he was averaging 96 yards a game and on his way to 1,600 before he got hurt. At the end of last year he had a very good December and averaged 6.0 yards a carry that month. I think he's a real special player."
3. James Washington:

"Antonio Brown was targeted 180 times last year and you got to sprinkle those around somewhere. Pittsburgh threw the ball on 67% of their plays last year,; second in the NFL. I don't think Juju Smith-Schuster is as gifted physically as James Washington, and I think he's going to have a big year."
2. Jimmy Garoppolo:

"I was very impressed with San Francisco's young weapons in the preseason. We know about the tight end George Kittle, we know they got Tevin Coleman from Atlanta out of the backfield, and we know about Dante Pettis, a guy who they drafted out of Washington last year. They went out and got Deebo Samuel and Jalen Hurd. Kyle Shannan is an offensive genius and Garoppolo is 8-2 as a starter for his career. Jimmy G is going to have a pop year."
1. Sam Darnold:

"I can argue no other team has elevated around a young quarterback more than the Jets. They have made three offensive line upgrades and got one of the best slot receivers in football, Jamison Crowder. I think Adam Gase is going to take the protective wrap off Sam and let him sling it. I think he's going to have a very big jump."
Check out the FULL segment below:

The Herd with Colin Cowherd
Want to know more about The Herd with Colin Cowherd? Get their official bio, social pages & articles on FOX Sports Radio!
Read more